OUR SERVICES
From pruning to stump grinding, we offer every service you could need to keep your trees healthy and secure.
All our services

»
BEFORE & AFTER
See the contrast between these pictures taken the moment we arrive and the moment we leave a job.
See the pictures

»
WHY US?
What is it that makes Tree Service by Dan so much better than all the other options? It's simple, really.
See what makes us better

»
As a full-service tree care company, it's the nature of our business to be concerned about the health of your trees, but as much as we care about preserving the physical integrity and natural beauty of your trees, our first priority is YOU – our client. You see, our goal is not to simply satisfy you but to "wow" you with our tree services.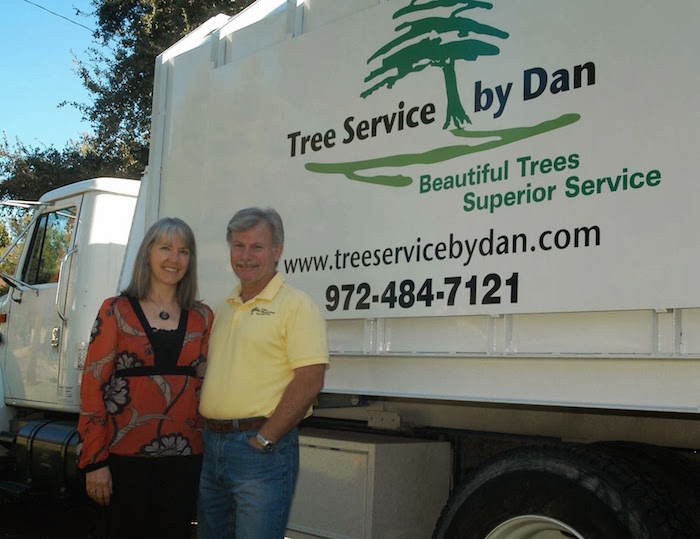 Dan and Melissa Rosandich
At Tree Service by Dan, we are totally committed to providing superior service – so much so that I'm willing to guarantee our work. If we don't do what we say we'll do, YOU DON'T PAY. Period. I can offer this guarantee because I have the utmost confidence in my crew – they are knowledgeable professionals who will treat your trees with great care and respect, and will treat you with courtesy and integrity.
I invite you to give us a call and experience our exceptional tree services for yourself. Our services include:
pruning
stump grinding
deep root feeding
cabling
diagnostic services
removals
Whatever your need, we'll provide a free estimate for the work and will guarantee your satisfaction. Give me a call at 972-484-7121 (office) or 214-563-7260 (cell) and let's get started!
Check out our reviews with the Better Business Bureau and Angie's List – we are top rated with both!
I look forward to serving you.
Dan Rosandich
Owner
TREE SERVICE BY DAN
12431 High Meadow Dr
Dallas, TX 75244
Contact Dan now
Copyright © 2010 - 2018 Tree Service by Dan